LSU
Embarks on Inaugural Scholarship First Bus Tour
Tour wrap-up from LSU President William F. Tate IV:
Dear Friends,
I knew we were on to something special with the Scholarship First Tour because no matter who I was talking to, their eyes would light up at a particular mention. For some, it was the sugar cane farm. For others, it was Lea's Lunchroom in Lecompte. And still others absolutely beamed at the thought of me getting into hip waders and going crawfishing.
At first, I thought it was just funny for them to see the President of LSU eating pie, stepping into a crawfish pond, or wearing a hard hat, but then, it really hit me: there's pride involved. The people of this great state are so honestly proud of their craft, their cuisine, their professions, their hometowns and heritage, that it really speaks volumes. I got to experience a little bit of that in-person during this inaugural tour.
I always say that I'm from Chicago by way of Mississippi, and my relatives have a little bit of that same Southern swagger in their step when it comes to the defining attributes of their culture, too.
Somewhere along this journey – I'm not sure if it was when we swung through Minden, visited future cancer center sites in Monroe, had the most amazing crawfish bisque with the incredible team at the Yellow Bowl in Jeanerette, or somewhere in between – I realized I'm not a tourist anymore. It's not just my university. This is my state. This is my home. That makes it my responsibility to defend and protect from threats both real and reputational.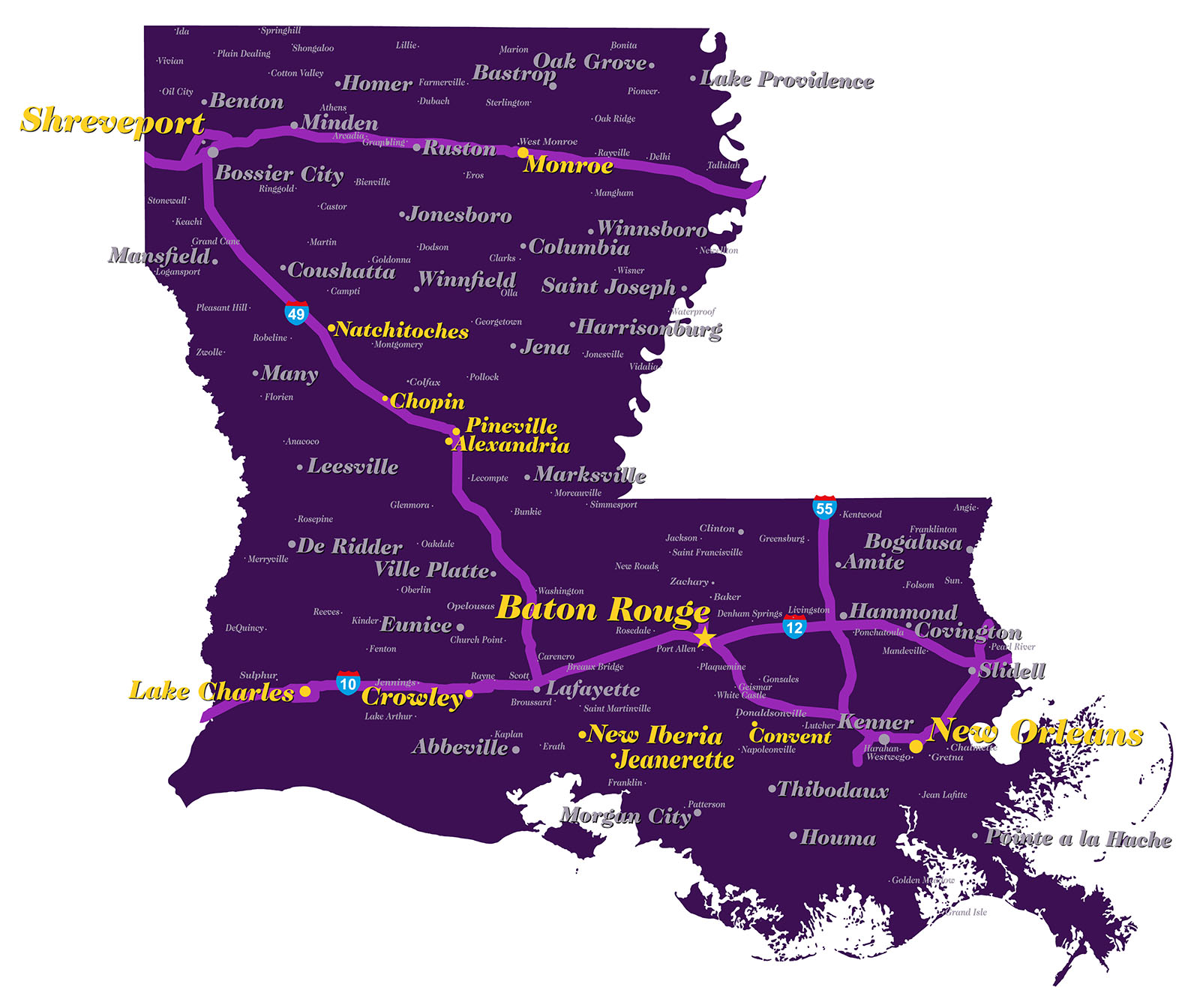 And that's exactly what got me thinking: if we're so proud of where we come from, of what we do and who we are, why can't we be equally proud of our university?
LSU has earned incredible accolades and outperforms competitors with more funding and longer legacies. We have a deeper, more significant relationship with our state than other flagships do because of the nature of our work. We graduate more students with better outcomes, produce more research with higher impact, and generate more ROI on every dollar invested than many of our peers. But our tendency is always to downplay our success – to qualify the compliment or flatten the flattery.
So, my pledge to you, as a proud adopted Louisianan and a fierce protector of LSU, is this: as the aftermath to our tour, you're going to hear more positive news about LSU than you've ever heard in your life. It's all true, it's all real, and it's not going to stop.
The question is: what will you do with the information once you have it? Will you tamp down the positivity, or will you get onboard and help me continue telling the world what an amazing university LSU really is?
I hope you'll join me in this next leg of our journey. We've got so much good to share.
William F. Tate IV
LSU President

tour Recap
Monday, March 13
Day One Dispatches From the Road
President Tate and the Scholarship First tour bus departed from LSU's Memorial Tower bright and early, with a special send-off from Coach Kim Mulkey. After a stop for boudin, the bus headed to LSU's original campus in Pineville for an important economic impact announcement, then rolled through the meat pie capital of Louisiana, stopping in Shreveport for the evening.
Tuesday, March 14
DAY TWO DISPATCHES FROM THE ROADTuesday took President Tate on a picture-perfect road trip through north Louisiana with stops in the "Friendliest City in the South" and "Sportsman's Paradise," giving way to glimpses of the state's agricultural past and its future. After a lunchtime social in Monroe, the bus made its way back to Central Louisiana for a reception hosted by LSU alumnus Roy O Martin in Alexandria.
Wednesday, March 15
DAY Three DISPATCHES FROM THE ROAD
After breakfast at Lea's Lunchroom, the bus departed from Alexandria, making its way through New Iberia to the "Sugar City," Jeanerette, to learn more about the importance of sugarcane to the Louisiana economy. Next up, a mad dash to Cajun Country to harvest crawfish in Crowley, before ending the day in Lake Charles.
Thursday, March 16
DAY Four DISPATCHES FROM THE ROAD
On the final day of the tour, the bus hustled down to Convent to visit with Shell, then over to the Big Easy for lunch at Drago's and a discussion of oyster farming in Louisiana. From there, the group visited the Port of New Orleans to make an exciting partnership announcement, then ended the day celebrating on the Northshore with LSU family and friends.
Tour News
Follow along as LSU President William F. Tate IV and Scholarship First bus tour wind their way to Shell in Convent, then New Orleans for lunch at Drago's and a big announcement at the Port of New Orleans, and finally to the Northshore for a social gathering.
LSU and Louisiana's largest ports announced a partnership Thursday to develop cybersecurity talent and technology for critical infrastructure. The agreement outlines opportunities for students and faculty to work with the ports to solve ongoing and emerging cyber challenges.
President Tate and the Scholarship First tour bus rolled into Convent on Thursday to visit with Shell and discuss the future of the energy industry in Louisiana.
LSU President William F. Tate IV and the Scholarship First tour bus started Day 4 with a visit with Shell in Convent. The day's events also included Drago's in New Orleans for lunch and a big announcement at the Port of New Orleans.
Follow along as LSU President William F. Tate IV and Scholarship First bus tour wind their way from Alexandria to New Iberia and Jeanerette, then to Crowley to harvest crawfish before ending the day in Lake Charles.
Enjoying an afternoon at Lawson Crawfish and Rice Farm in Crowley with Lt. Gov. Billy Nungesser, LSU President William Tate tries his hand at catching crawfish.
---