Student Resources & FAQs
Resources
3D Printers
The Chevron Center houses a state of the art 3D printer, which students can use to print 3D models for their undergraduate courses.
3D Scanners
Our 3D scanner allows students to scan in three dimensional objects so that they can be viewed digitally on a computer.
Large Format Printer
Our large format printer allows students to print posters that can be used for presentations, coursework, or any other academic purpose for a very low cost.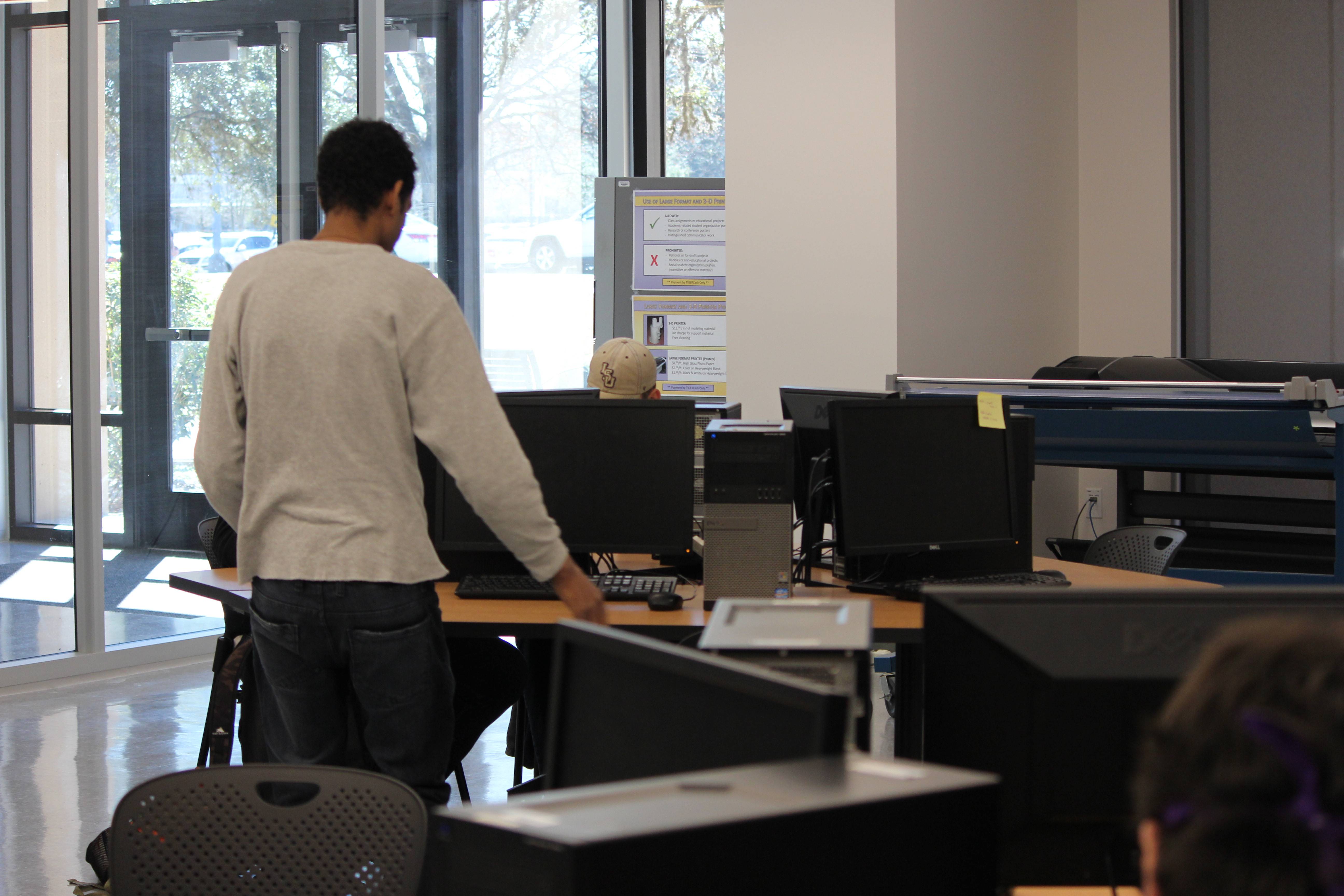 Computer Lab
The Chevron Center houses a computer lab where students are free to use to work on projects throughout the day and into the evening.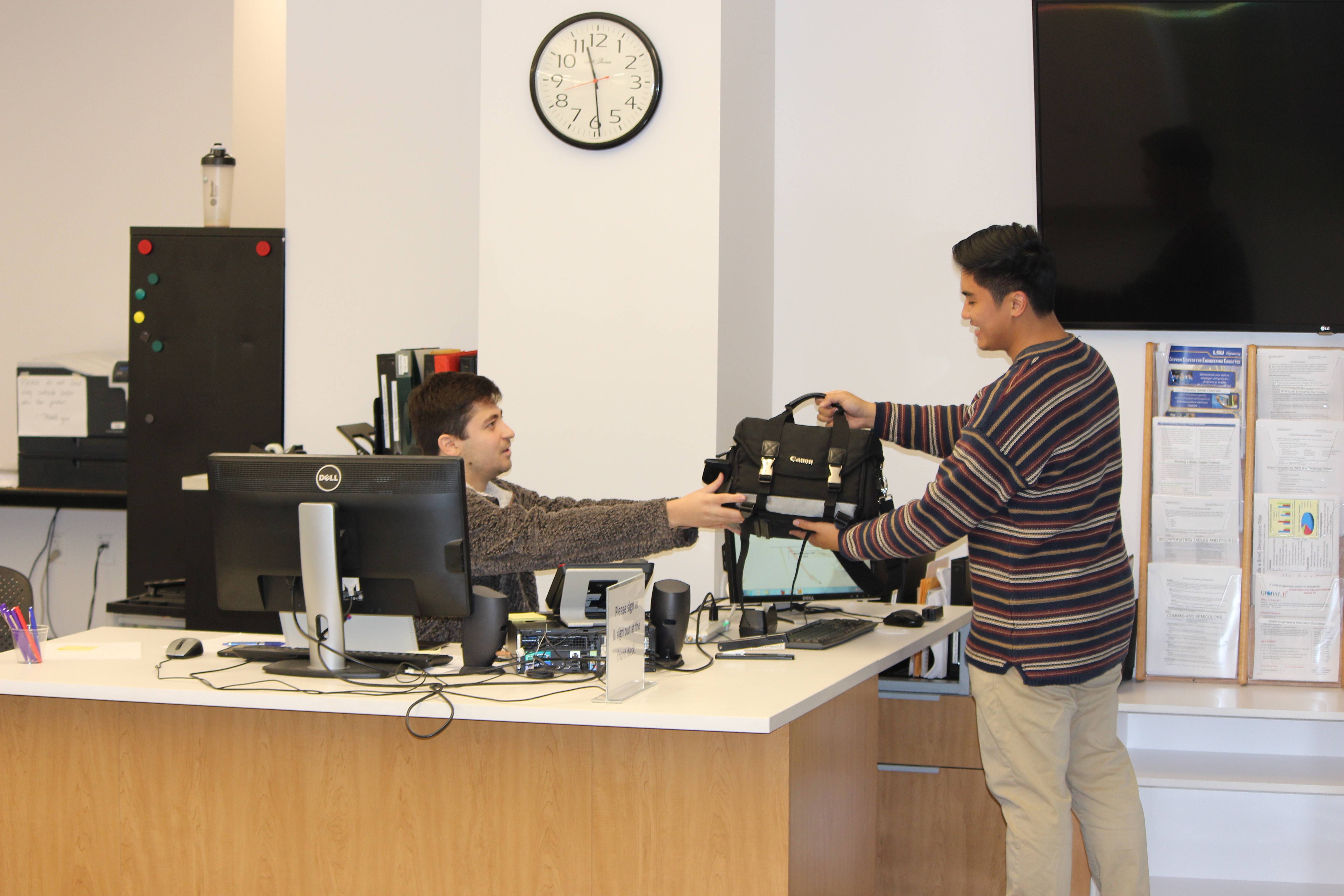 Media Checkout
Students are welcome to check out items such as cameras, SD cards, clickers, GoPros, and various other media devices at no cost.
Frequently Asked Questions
What does the Chevron Center do?
The Chevron Center houses the Engineering Communication Studio, which contains computers, a 3D scanner, and a 3D printer for students to use. It also serves as a hub for LSU College of Engineering students who have an interest in traveling abroad, learning communication techniques, and becoming an LSU Distinguished Communicator.
When are the Chevron Center's hours of operation?
We are open from 9 a.m. - 8 p.m. Monday through Thursday and 9 a.m. - 5 p.m. on Fridays.
Who can use the Chevron Center?
We are open to all LSU students.
Where is the Chevron Center located?
We are located in room 1269 PFT.
What type of equipment is available for checkout?
Students are free to checkout cameras, tripods, SD cards, SD card readers, laser pointers, GoPros, and various media devices.
How long can I checkout an item?
Devices may only be checked out for 24 hours at a time, but students are free to re-check out an item after their 24 hour period expires.
How much does it cost to print?
8.5 x 11 and 11 x 17 paper
$.07 per page
Large format printer:
$8/ft. for high gloss photo paper
$2.50/ft. for color on heavyweight bond
$1.00/ft. for black and white on heavyweight bond
3D printers:
Stratasys F170 FDM Printer

$6.00 / in3 of modeling material

Form 2 SLA

$0.30 / ml of modeling material
$1.00 minimum for print jobs
Do I need to check in?
Yes, students must check in and out when entering and leaving the studio.
What if I am over 80 hours?
You are still able to be apart of the Distinguished Communicator program as long as you have enough time to complete all of the requirements (3 semesters).
Do workshops/classes I've taken before enrolling in the program count?
Yes, but classes must be LSU classes that are already certified, and workshops that were not put on by a CxC entity must be approved by CxC staff.
Do I need an advisor?
You do need an advisor, but you do not need one immediately. Students typically choose an advisor a few semesters before you graduate.
Does the advisor need to be LSU faculty?
The faculty advisor is usually a faculty member but not always. The person must know the field and be able to help the student achieve their post graduation goals.
Do I have to take extra classes
Many majors have the classes built into them, and in those majors you should not have to take any extra classes. However, majors that do not have required courses have ways to get them via CI contracts. Approved courses taken outside of your discipline will also count.