Comparative Literature Courses
Spring 2018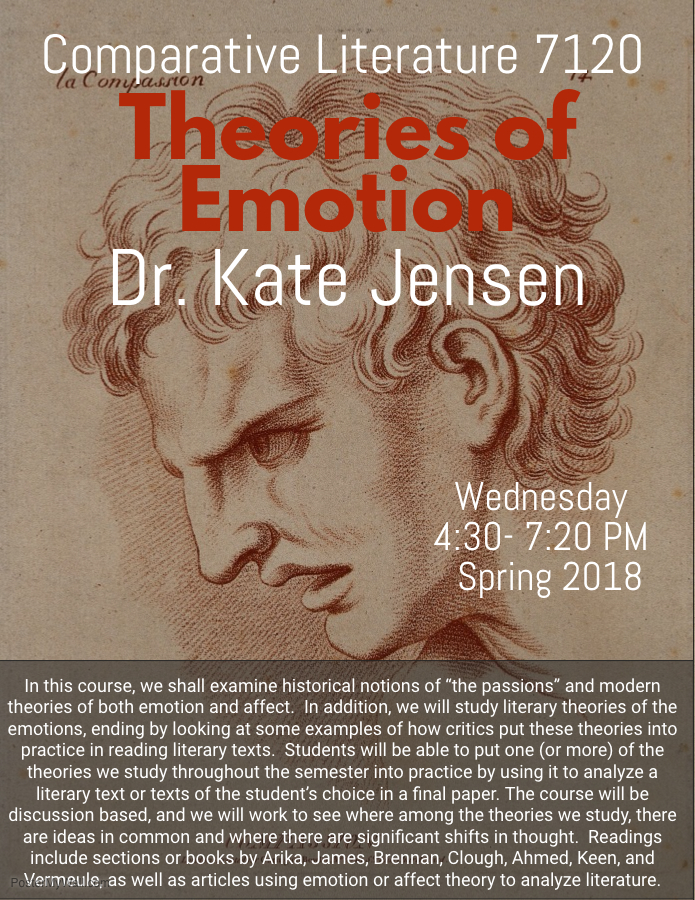 CPLT 7120 Theories of Emotion
Dr. Kate Jensen
W 4:30 – 7:20
In this course, we shall examine historical notions of "the passions" and modern theories of both emotion and affect. In addition, we will study literary theories of the emotions, ending by looking at some examples of how critics put these theories into practice in reading literary texts. Students will be able to put one (or more) of the theories we study throughout the semester into practice by using it to analyze a literary text or texts of the student's choice in a final paper. The course will be discussion based, and we will work to see where among the theories we study, there are ideas in common and where there are significant shifts in thought. Readings include sections or books by Arika, James, Brennan, Clough, Ahmed, Keen, and Vermeule, as well as articles using emotion or affect theory to analyze literature.
CPLT 7130 Modern Odysseys
Dr. Michelle Zerba
T 10:30 - 12
As comparative literature and world literature open new pathways of exchange between geographically and culturally distant regions of the globe, students of literary study are facing the challenges of reading texts that span these divides. This course will examine how the Return Tale, which has antecedents reaching as far back as the Mesopotamian Epic of Gilgamesh and Homer's Odyssey, has provided 20th century writers and creative artists with ways of thinking about social, sexual, and racial identity in the Caribbean, the Mediterranean, and Europe. We will focus particularly on how the effects of slavery and colonization in the Caribbean shape the Return Tale. Topics of study will include: the Return Tale (nostos) in world literature; l'errance insulaire in Caribbean and Mediterranean island settings; Odyssean metis (cunning, craft) and Caribbean métissage (interweaving, intermixture); the Mediterranean as a deep culture (land-locked sea, stratification through deep time) and the Caribbean as an archipelago (far-flung, island-dotted sea, diffuse); retour as detour; katabasis (descent); memory and storytelling; personas and masks: text as performance. Readings will include: the Epic of Gilgamesh (selections), Homer's Odyssey, Sophocles' Philoctetes, Aimé Césaire's Journal of a Return to the Native Land, Virginia Woolf's Orlando, Derek Walcott's Omeros, C.P. Cavafy (selected poems), Édouard Glissant's Poetics of Relation, Nikos Kazantzakis' Report to Greco, Jacques Lacarrière, Ce que je dois à Aimé Césaire and L'Eté grec, and Romare Bearden, Black Odyssey in Visual Art (Cut-out series).
CPLT 7140/ History 7975 Biography of Latin America
Dr. Stephen Andes
TH 3 – 5:50
This course will investigate identity and representation through historical biography and memoir. Our subject is Latin American figures both well-known and otherwise. We will mainly be reading works concerning the post-1810 era. We will read a book a week. Students will have several critical writing assignments. History as biography is truly ancient. As far back as human's have told their story, the deeds and misdeeds of exemplary Men and Women were told. This class is NOT about looking at the Great Men of History. Our task is to look at the genre of biography in relation to history writing, memory and identity. How and why do people write about individuals? What do biographies tell us that other approaches to history don't tell us? People are fascinating subjects. We will explore biographies of Latin American people in context.
CPLT /English 2201 Representations of 'Madness' in Literature from Antiquity to the 17th Century
Emily O'Dell
MWF 9:30 – 10:20
This course will focus on the world's most influential literary works in Western and non-Western traditions from antiquity to the 17th century with an emphasis on reading and writing. Students will be exposed to cultures and literatures from around the world, from Ancient Egypt to the Americas, through the lens of the unifying theme of madness that will guide our reading and analysis. Madness has been represented for centuries to varying degrees in literature from around the world and its conditions have been equated with everything from bodily/spiritual illness to supernatural possession to intellectual genius. The purpose of this course will be to examine representations of madness and non-conformist mentalities to determine the ways in which they can provide insight into the beliefs and ideals of particular societies.
CPLT / English 2202 The Romantic Spirit, Exile, Madness, and the City
Stacy Stingle
T/TH 12:00 – 1:30
CPLT 2202 Introduction to Modern World Literature, also offered as ENGL 2202, is a general education course, which will present an overview of the literature of the world from 1650 to the present day and an introduction to the concept and theory of world literature. In this course we will examine the romantic spirit through the theme of exile, madness, and the city, where we will consider the ways in which the presence of the romantic hero/antihero is one that instigates change, challenge, and conflict both within oneself and the surrounding hierarchies of order. As a social construct, madness is about tightening space, constricting mobility, and restricting access to exterior avenues of opportunity. In this course we will ask the questions: What is the romantic spirit? How does it serve as a force of both creation and destruction? How is the romantic spirit perceived and engaged differently in men and in women? What is the relationship between madness and creativity? As both a social construct and an internal experience, we will examine madness as an expression of revolt and this relationship of revolt to the creative, romantic spirit.
---
Fall 2017
CPLT 7020/ Tu 3-6 pm History of Literary Theory from the Late Nineteenth Century to the Present - Adelaide Russo (frruss@lsu.edu) This course addresses the evolution of literary theory and the history of criticism from 1850 to the present. Approaches to literary analysis discussed include: phenomenology, structuralism, post-structuralism, linguistics and pragmatics, anthropology, psychoanalysis, gender and cultural studies. Students will examine a broad spectrum of critical texts, and will be required to confront their theoretical readings with practical analysis of various literary genres. REQUIRED: PHD IN COMPARATIVE LITERATURE; RECOMMENDED FOR CPLT MINORS
CPLT 7120/ M 3-5:50 PM Dante and the Arabic Philosophical Tradition - Greg. B. Stone (stone@lsu.edu) Close study of Dante's Comedy (Inferno, Purgatorio, Paradiso), with special focus on its relation to the Arabic rationalist philosophical tradition and the question concerning the relation between philosophy and religion. A work of great scope that aims to provide a complete picture of the reality of the cosmos and of human virtues and vices, Dante's poem is a compendium of the scientific, philosophical, religious, literary, historical, and political issues from the time of Aristotle to the early Renaissance. Readings in English.
CPLT 7130 (Sec 1)/ THTR 7920-01 Tu-Th 10:30-12 Seminar: Drama of the African Diaspora. -Femi Euba (theuba@lsu.edu) A study of the dramatic and theatrical expressions of the black cultures of the New World (North and South America, and the Caribbean), identifying, where possible, comparable connections with African counterparts. Works include those by August Wilson, Suzan-Lori Parks, Aime Cesaire, Abdias do Nascimento, and Derek Walcott.
CPLT 7130 (sec 2)/ SPANISH 7961 W 4:30- 7:30 pm Gender and Nation in the Fin de Siècle European Literature -Dorota Heneghan (dheneg1@lsu.edu) This course explores the interplay between gender and nation in the late nineteenth- and early twentieth-century European literature. We will look how specific ideals of gender enabled Spanish, German, Russian, and Polish writers to share their vision of the modern nation. Authors include: Clarín La Regenta (1885), Galdós Tristana (1892), Baroja The Tree of Knowledge (1911), Thomas Mann Buddenbrooks (1900), Heinrich Mann Professor Unrat (1905), Chekhov The Duel (1891), Orzeszkowa On the Niemen (1888), Prus The Doll (1890) and Zeromski The Faithful River (1912). Theoretical texts on gender and nation include: Gellner, Bhaba, Anderson, Hosbsbawm, Mosse, and Yuval-Davis.
CPLT 7140/ Thu 3-5:50 pm Interdisciplinary Studies Theorizing the Visual, Performing, and Literary Arts of the Caribbean - Solimar Otero and Eric Mayer-García (solimar@lsu.edu) This course explores the intersections between the visual, performing, and literary arts of the Caribbean with an eye towards theorizing cultural admixture. We look at creative expression that crosses boundaries and blends traditions, genres, and perspectives on the region, politics, and populations. Some theoretical models and artistic approaches we explore include: transculturation, surrealism, bricolage, creolization, adaptation, palimpsests, tropicalizations, satire, assemblage theory, and de-familiarization. Artists and authors like Wilfredo Lam, Virgilio Piñera, André Pierre, Edwidge Danticat, Aimé Césaire, Édouard Glissant, Josefina Báez, Reinaldo Arenas, Thomas Glave, Migdalia Cruz, Julia de Burgos, Lorna Goodison, Cecil Cooper and María Irene Fornés will be put into conversation with each other. The course also concentrates on how mixed media work and collaborative approaches to artistic production provide a palette for discussing connections between Francophone, Anglophone, and Hispanic Caribbean experiences.
CPLT 8900 / TBA Teaching World Literature - Adelaide Russo (frruss@lsu.edu) Students will audit the undergraduate section of World Literature and meet to discuss theoretical and practical issues related to Teaching World Literature to Undergraduates. Required for all graduate teaching assistants.
CPLT 2201 /ENGL/ M-W-F 9:30-10:20 Introduction to World Literature
CPLT 2202 / ENGL/ Tu-Th 12:30-1:20 Modern World Literature