LSU School of Veterinary Medicine professor to serve on international association committee
FOR IMMEDIATE RELEASE: July 25, 2016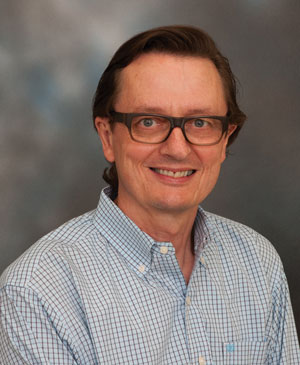 BATON ROUGE - Frédéric Gaschen, Dr.med.vet, Dr.habil, DACVIM, DECVIM-CA, professor in Veterinary Clinical Sciences (VCS) and Section Chief (Companion Animal Medicine) in the LSU Veterinary Teaching Hospital (VTH), is the new chair of the Congress Scientific Program for the World Small Animal Veterinary Association (WSAVA). This will be Dr. Gaschen's first year to serve in this position.
The WSAVA is an association with memberships made up of associations of small animal veterinarians from all over the world. Currently there are 96 members and affiliate associations, representing more than 158,000 veterinarians from all over the world. Member associations from the USA include AVMA (full membership), as well we large conferences such as NAVC and WVC and several specialty colleges or associations (affiliate members).The mission of the WSAVA is to advance the health and welfare of companion animals worldwide through an educated, committed and collaborative global community of veterinary peers. The WSAVA organizes conferences all over the world, with the next annual congress in Cartagena, Colombia on September 27-30, 2016. Future conferences will be held in Denmark, Singapore and Canada. As the chair, Dr. Gaschen will supervise and design most of the conference program, among other responsibilities.
Before working with the WSAVA, Dr. Gaschen served as the chair for the annual Forum of the American College of Veterinary Internal Medicine (ACVIM). This year the ACVIM Forum took place in Denver, Colorado, and had more than 3,000 attendees North American and numerous other countries.
He also serves on a committee for the North American Veterinary Community (NAVC) Conference, where he coordinates the small animal medicine program. The 2016 NAVC Conference was held in Orlando and had more than 17,000 attendees.
Dr. Gaschen is originally from Switzerland, and graduated from the University of Bern. He has been working at the LSU SVM for 10 years and his clinical and research interests include gastroenterology and gastrointestinal motility and clinically applicable methods to assess it and modify it, chronic inflammation and the role of intestinal microbiota in health and disease of dogs and cats.
For more information about the conferences, see below.
http://www.acvim.org/ACVIM-Forum/About-ACVIM-Forum/Future-Past-ACVIM-Forums
http://navc.com/conference/future-dates/
The LSU School of Veterinary Medicine is one of only 30 veterinary schools in the U.S. and the only one in Louisiana. The LSU SVM is dedicated to improving the lives of people and animals through education, research and service. We teach. We heal. We discover. We protect.
###