Engendering Scholarship Lecture Series
Engendering Scholarship is a lecture series devoted to contemporary scholarship in Women's and Gender Studies. Graduate students, junior scholars, and senior scholars from LSU and other universities across the U.S. give presentations on their current research interests and invite questions from the audience about their work. Past presentations have covered a wide range of topics including feminist bioethics, Southern queer identities, the impact of gender on macropartisanship in US politics, and Afro-Cuban religious culture. This series has something for everyone, so watch for our upcoming lecture announcements!
Welcome to Fall 2017 Lecture Series
Botox Nation
Women's and Gender Studies and Dana Berkowitz present the Engendering Scholarship Lecture Series discussion on the book entitled Botox Nation: Changing the Face of America. The event will be on Wednesday, November 15, 2017 at 12:00pm in Himes Hall Room 129.
The Disciplined Survivor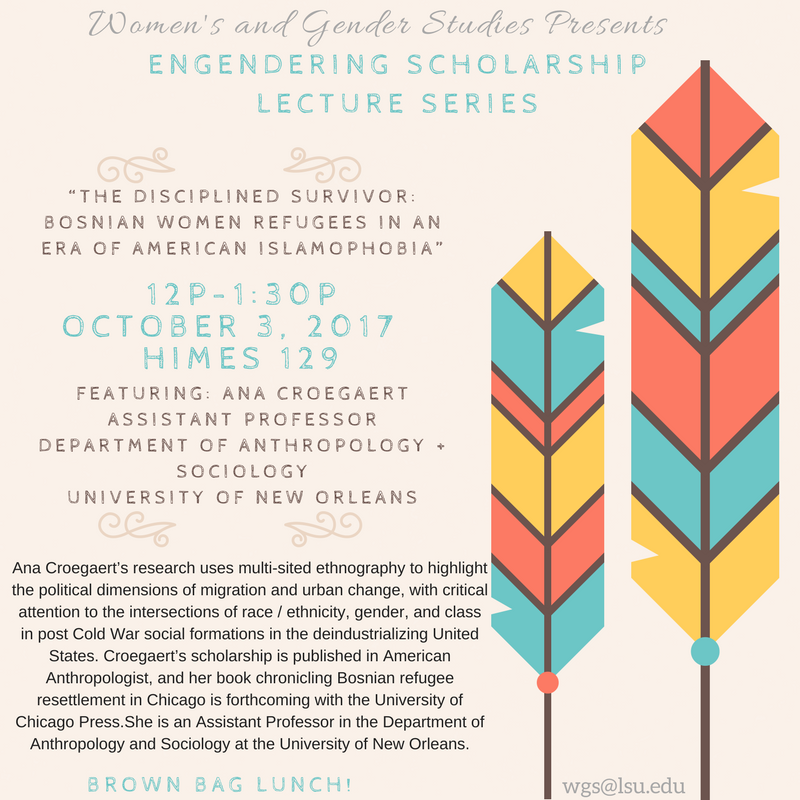 Women's and Gender Studies presents the Engendering Scholarship Lecture Series entitled "The Disciplined Survivor: Bosnian Women Refugees in an Era of American Islamophobia". The event will take place on October 3, 2017 at 12:00pm-1:30pm in Himes 129. The series will be featuring Ana Croegaert, Assistant Professor in the Department of Anthropology and Sociology at the University of New Orleans. Ana Croegaert's research uses multi-sited ethnography to highlight the political dimensions of migration and urban change, with critical attention to the intersections of race/ethnicity, gender, and class in post Cold War social formations in the deindustrializing United States. Croegaert's scholarship is published in American Anthropologist, and her book chronicling Bosnian refugee resettlement in Chicago is forthcoming with the University of Chicago Press. A brown bag lunch will be provided!
Previous Lectures
---