Chat & Chew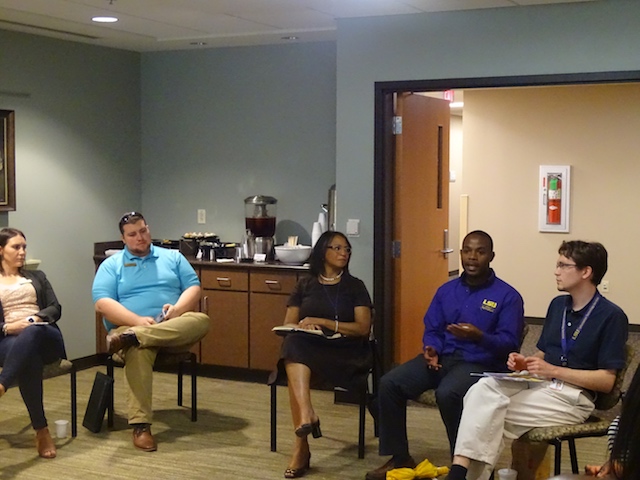 About Chat & Chew
The Office of Diversity, Equity & Inclusion invites you to attend the monthly "Chat & Chew" Diversity and Inclusion Lecture Series for faculty and staff. "Chat & Chew" sessions are designed to provide greater insight into areas that promote the goals of Diversity and Inclusion outlined in our ODEI strategic plan, as well as engage faculty, staff, and administrators in thoughtful conversations that will aid in shifting the climate at LSU. The sessions will take place every fourth Tuesday of each month during lunch hour, and the presentation will consist of either a live lecture or webinar followed by a moderated discussion. Chat & Chew takes place in the Vieux Carre Room in the LSU Student Union at 12pm. Bring your lunch and a friend!
2021-2022 Chat & Chew Schedule
February 23, 2021
Topic: A Matter of Records: Using Genealogy to Tell Your Story
"Who am I?" is a complicated but frequently asked question that can require a lifelong process to answer. Genealogy, the study of family history and lineage, contributes to this universal search of the self by painstakingly stitching together a person's ancestry, primarily using oral histories and historical records. Since many historical records are limited by the conditions in which they have been created, not all stories can easily be told. While some people may find their family histories illuminated through several millennia, others may discover that theirs barely seem to be captured beyond a century ago.
Considering this disparity, is it really possible for every person's ancestral story to be told, especially by relying on historical public records? If so, how does one begin to do so? More importantly, why are some stories readily available while others are nearly excluded?
Join us for a practical discussion on historical identity and public memory.
Moderator: Ebony McDonald, MSLS, African and African-American Diversity Librarian, LSU Libraries
Panelists:
Judy Riffel, Professional Genealogist, Independent Researcher in Baton Rouge;
David Laatsch, Genealogy Library, East Baton Rouge Public Library ; and
Greg Osborn, Library Associate, New Orleans Public Library
March 23, 2021
Topic: The Person You Mean to Be (How Good People Fight Bias) - Chat & Chew
Many of us believe in equality, diversity, and inclusion. But how do we stand up for those values in our turbulent world? What if your attachment to being a "good" person is holding you back from actually becoming a better person? Please join us for our conversation about The Person You Mean to Be (How Good People Fight Bias).
Panelists:
Dr. Suzette Caleo, Associate Professor, Department of Public Administration, E. J. Ourso College of Business
Angela R. Guidry, Director of Diversity, Equity and Inclusion, E. J. Ourso College of Business
April 20, 2021
Topic: Year End Student Reflections
We have faced so many challenges as an LSU family in the past academic year. Please join us for the opportunity to hear from our students about their own experiences navigating a virtual classroom experience, pandemic, and racial reckoning.
Moderator: Dr. Dereck J. Rovaris, Sr., Vice Provost for Diversity
Panelists: Angela Blank, Calvin Chapman, Chloe Hawkins, Chrys Viator, Deventria Curtis, Devin Scott, Inari Owens
TBA
May , 2021


All Chat & Chew sessions this semester are held from 12:00 PM - 1:00 PM via Zoom.
For more information or to request special accommodations, please contact the Office of Diversity, Equity & Inclusion at 225-578-5736.
Chat & Chew Committee
Renee Boutte Myer
Assistant Dean for Diversity, Advocacy & Civic Engagement
College of Human Sciences and Education
Melissa Brocato
Assistant Vice Provost
Executive Director
Center for Academic Success
Dr. Gina Eubanks
AVP & Program Leader of Nutrition & Food Science
LSU AgCenter
Monica Guient
Vice President for Diversity, Inclusion and Opportunity
LSU AgCenter
Emmy Hicks
Assistant Director of Development
LSU Office of Diversity, Equity & Inclusion
Sigrid E. Kelsey
Director of Library Communications and Publications
LSU Libraries
Dr. Ashley N. Mack
Assistant Professor, Rhetoric & Cultural Studies
Department of Communication Studies
Dr. Amanda L. Martin
Assistant Dean of Recruitment and Student Development
LSU AgCenter
Ebony McDonald
African and African American Studies Diversity Librarian
LSU Libraries
Dr. Tyrslai Williams-Carter
Director of Research, Education, & Outreach Programs
Office of Strategic Initiatives
Dr. Zakiya Wilson Kennedy
Assistant Dean for Diversity & Inclusion
College of Science